Meat & Prime Meat Jerky
Rockwell Recipes - Ark: Survival Evolved
We have updated our site and moved a few things. An updated version of this page is available here:
Meat & Prime Meat Jerky is one of the Rockwell Recipes found in Ark: Survival Evolved. This recipe transforms the meat into jerky, which lasts far longer than regular meat. It is also relatively easy to produce, allowing you to store food much more easily.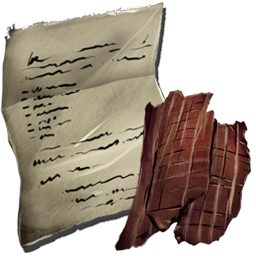 Meat & Prime Meat Jerky Recipe
In-Game Description:

While it might not taste as good as freshly cooked meat, jerky is just as nutritious and lasts much longer.

1/3 serving of meat (1 Cooked Meat or Cooked Prime Meat)
1/4 dollop of Oil (1 Oil)
Sprinkle With Sparkpowder (to dehydrate) (1 Sparkpowder)

Cook in a Preserving Bin.

This is easy. Just put one meat of any kind into the preserving bin along with one oil, and 1 spark powder. Give it some time and it will become Jerky of the appropriate type. You don't have to be precise. I just keep a stack of Sparkpowder in the Preserving Bin, store all my meats in it, and toss in oil as I find it.