Lazarus Chowder
Rockwell Recipes - Ark: Survival Evolved
We have updated our site and moved a few things. An updated version of this page is available here:
Lazarus Chowder is one of the Rockwell Recipes found in Ark: Survival Evolved. This recipe allows you to hold your breath dramatically longer, in addition to allowing you to recover your stamina in the water. This can be extremely useful when exploring underwater caves. As with most of the Rockwell Recipes, this one is made in the Cooking Pot.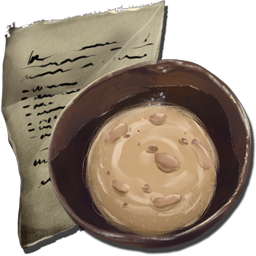 In-Game Description:

This creamy dish improves the body's natural constitution. You will recover from injury more quickly after eating this, and your body will need less oxygen.

3 servings of Cooked Meat (9 Cooked Meat)
5 Savroot
5 Longrass
1 handful of Mejoberries (10 Mejoberries)
1/2 dollop of Narcotics (2 Narcotics)

Submerge in Water (Waterskin, Water Jar, or Canteen at least 25% full)

Cook in a Cooking Pot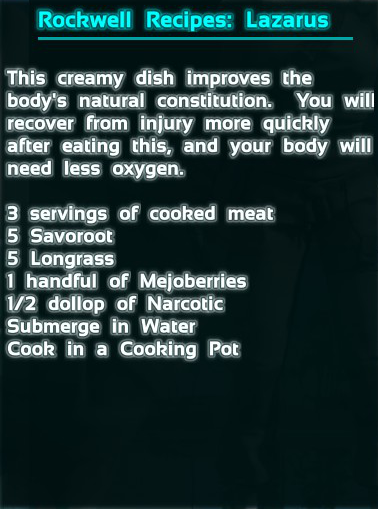 The exact effects of Lazarus Chowder are:

85% reduction in oxygen usage and the ability to regenerate stamina in water
(you use only 15% of the normal amount of oxygen)

Effects last 10 minutes.